2012 Asia-Pacific International EMC Symposium
Resorts World Sentosa, Singapore
May 21 to 24, 2012
IEEE EMC Magazine, vol.1, no.3, pp. 72-77, 2012
The 2012 Asia-Pacific International Electromagnetic Compatibility Symposium(APEMC) and Technical Exhibition was held on May 21st-24th, at Resorts World Sentosa (RWS) Singapore. It perpetuated a proud tradition that began in 2006 with the first EMC-Zurich in Singapore. That seminal conference combined the many scattered EMC events and initiatives in the region to form a major Asia-Pacific EMC symposium (APEMC). It was followed by the highly successful APEMC 2008 in Singapore, the APEMC 2010 in Beijing, and the APEMC 2011 on Jeju Island Korea. These symposiums covered the entire scope of electromagnetic compatibility and extend to the emerging technologies associated with EMC.
With the aid of Singapore's organizing team, the conference was a resounding success. With improved quality over the conferences held in previous years. The venue was carefully chosen for providing some of the best convention facilities to accommodate our technical sessions, workshops, special events and exhibits; RWS has world-class accommodation, spectacular attractions, entertainment, and fine dining that will definitely impress our oversea delegates.
Despite the continuing economic dark clouds in the world, the symposium attendance was attendded by 414 delegates from 32 countries making it a globalized conference. Attendance Polls showed an increase in the number of delegates from the Asia-Pacific region.
The symposium was kicked off with an informative workshop and tutorial sessions on May 21st 2012. 37 specialists presented at the 11 workshops covered various aspects of EMC and their latest development which includes Lightning EMC, Semiconductor Device, PCB EMC and System and Transportation EMC. These events alone were well attended with over 200 participants and provided some groundwork for the three days of regular EMC technical sessions to follow.
The opening ceremony took place in the morning of May 22nd. The General Chair, Professor Wolfgang Hoefer gave his welcome address for the Symposium, complimenting the technical, organising committee for a job well done, the paper authors, and sponsors for their great efforts and contributions in making the symposium a success. Following Professor Hoefer speech was addressed by Ghery Pettit, the President of IEEE EMC Society, where he enphasized that IEEE EMC Society has been the technical co-sponsorship to APEMC since it is founded, through the years, APEMC and IEEE EMC Society have been more and more strong collaboration which not only make the great success of APEMC but also the awareness of IEEE EMCS in Asia Pacific Region.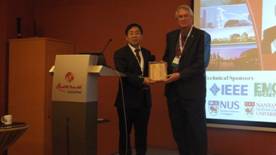 Dr Er-Ping Li presented the plaque of appreciation to Ghery Pettit, President of IEEE EMC Society, after his addressing
The TPC Chair, Prof Er-Ping Li, gave an outline of the paper submissions, he said that The general organization of the APEMC focuses on high quality technical papers and their presentations by speakers from all over the world, at the same time, APEMC will also take care the presentations from other Asia countries or regions who are unable to participate the symposiums held in North America and Europe. In APEMC 2012, a total of 324 papers were received including two topical meetings namely "Power System and Smart Grid EMC" organised by Dr Kang-Sang Lock from Singapore, Dr Wah Hoon Siew from UK; and " EMC OF IC and System-on-Chip" organised by Dr Sonia Ben Dhia from France and Prof. Fabian Vargas from Brazil. The review process and acceptance of the technical papers are rigorous. 151 regular submissions were selected as oral presentations and 36 as poster presentations. In addition, the two topical meetings selected 46 papers for presentations. The Symposium was arranged two plenary sessions, one was held in conjunction with the opening ceremony on 22 May, and other was held in the morning of 23 May. Four parallel technical sessions were running on each day.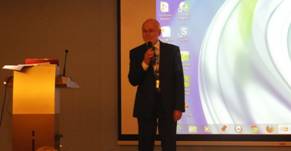 Prof Ingo Wolff , gave his keynote talk at the 2012 APEMC in Singapore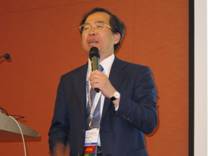 Prof Joungho Kim from KAIST, Korea, gave his keynote speech at APEMC 2012 opening session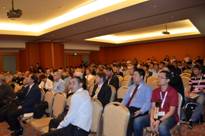 Attendees shown at the May 22 Opening Session of 2012 APEMC in Singapore
Two keynote speeches which marked the highlights of the opening ceremony took place right after the opening address. The first keynote speech by Prof Ingo Woff, President of the Information Technology Society (ITG/VDE), Germany, President/CEO of IMST GmbH, Kamp-Lintfort, Germany, spoke on "ICT (Information Communication Technology) meets Energy" where he stressed that the Energy Information Networks and Systems have to provide all the data necessary for metering and controlling the current and future energy grid. The second keynote speech by Prof Joungho Kim, The Chair of The Department of Electrical and Computer Engineering in Korea Advanced Institute of Science and Technology (KAIST), spoke on "Through Silicon Via(TSV) Design and Measurement for Terabit data-bandwidth of 3D IC".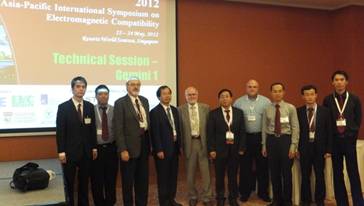 APEMC2012 Organising Committee is shown with two keynote speakers, from left Zhao Huapeng, Chua Eng Kee, Wolfgang Hoefer,Joungho Kim, Ingo Wolff, ERPING LI, James Drewniak, En-Xiao Liu, Xingchang Wei, Mark Tan
Delegates attended the presentation by Dr Bill Radsky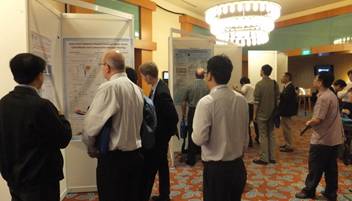 Poster session attracted much attention at APEMC 2012 in Singapore
It should be highlighted that the Memorial Session for Prof Ruediger Vahldieck was held in the morning of 24 May. Prof Vahldieck was the co-founder of APEMC, he has made a dedicated contribution towards the success of APEMC. The session was remarked by Dr Erping Li where he highlighted the links of Ruediger with Singapore, followed by 8 of his former colleagues and friends speaking during the session which includes Prof Peter Russer, Prof Ingo Wolff, Prof Ke Wu, Prof Femux, Prof Mizkoski, The session was concluded by the General Chair Prof Hoefer. The memorial session was also attended by Prof Vahldieck's wife Zorka and his daughter Masha.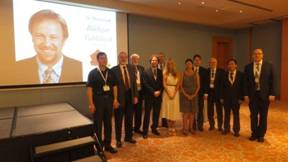 Speakers at the Memorial Session to Prof Vahldieck , from left Ke WU from Univesity de Montreal,Wolfgang Hoefer from A*STAR Singapore, Peter Russer from Technical University of Munich, Michael Mrozowski from Gdansk University of Technology, Poland, Masha Vahldieck daughter of Prof Vahldieck, Zorka Vahldieck wife of Prof Vahldieck,Joannes Russer from Technical University of Munich, Ingo Wolff from IMST GmbH, Germany, Er-Ping Li, Symposium President, Christophe Fumeaux from University of Adelaide, Australia
Three Best Student Papers were selected from 67 student paper submissions. Besides the oral presentations, the short listed students were required to present their papers in the poster session and judged by the jury panel. The first prize was given to Martin Schmidt for his paper "Interaction between Passive Common Mode Noise Cancellation and Conservative Passive Filtering", The 2nd Prize was awarded to Wei Luo from Shanghai Jiaotong University for his paper, "Efficient Analysis of Transient Responses of Some Antenna Arrays in the Presence of High-Power Electromagnetic Pulses (HP-EMP)" and the 3rd prize went to Mr Linbiao Wang from Nanyang Technological University, Singapore, for his paper "Tri-Band Frequency Selective Band-Stop Shield Using Screen Printing Technique".
In 2012 APEMC, The Best Symposium Papers selected from over 200 accepted regular papers were given to Jonghoon Kim, Hongseok Kim, Mijoo Kim, Seungyoung Ahn, Jiseong Kim, and Joungho Kim for the paper "Analysis of EMF Noise from the Receiving Coil Topologies for Wireless Power transfer"; Decao Yang and Xingchang Wei for the paper "Impedance calculation of power and ground planes using image method" and Thomas Kaufmann and Christophe Fumeaux for the paper "A Scattered Field Formulation of the Time-Domain Radial Point Interpolation Method using Radial Perfectly Matched Layers"
The Symposium Award banquet took place on May 23, at the City Centre, Marina Mandarin Hotel. During the banquet, awards were presented to the Best Student Papers, Best Symposium Papers, The Plaque of Appreciation was given to Prof Jinliang for His services as Symposium President of APEMC 2010 and Prof Joungho Kim for his services as TPC Chair for APEMC 2011. These Plaques of Appreciation were received by the two sponsors of CST and ST Electronics Ltd, The organizing committee received the Certificate of Appreciation from the General Chair, Professor Hoefer. Number of Service Awards were presented to the IEEE EMC Singapore Chapter past and present committee members by the President of IEEE EMC Society.-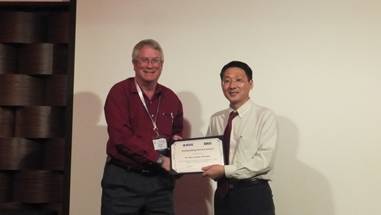 The President of IEEE EMC Society, Ghery Pettit, presented the Outstanding Service Award to Dr Richard Gao, the Ex-Chair of IEEE EMC Singapore Chapter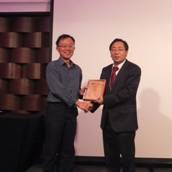 Dr Er-Ping Li presented the certificate of appreciation for their sponsorship to APEMC to Mr Chow wee Sing(one the left), ST Electronics, Singapore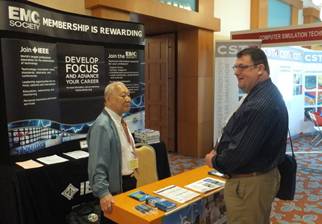 IEEE EMC Society exhibition booth at APEMC in Singapore
The 2013 APEMC will take place in Melbourne, Australia (www.apemc2013.org).
On behalf of the organising committee, we welcome you all to attend the 2013 APEMC
For Any further information, please contact:
Dr Erping Li,
Email: erpingli@ieee.org
<![if !vml]>
<![endif]>
Last update: 20th Feb 2014 by APEMC  webmaster